Skip to Content
Horseback Riding at Sundance Riding Stables
Guided rides are available on our 200 beautiful acres of meadows and woods. Our approach to Western riding begins with a personalized interview regarding any past riding experience. This helps us assign a horse specific to individual riding ability, beginner to expert, from our herd of well-trained horses. Our trails are walk-trot only. Children must be at least 8 years old and 50″ tall with accompanying adults to ride on the guided trail ride. Please call the stables office for more info at 517-627-5500 or contact us here. Note: The Stables will close in the event of thunderstorms or a heat index over 100. Please call ahead or check the weather.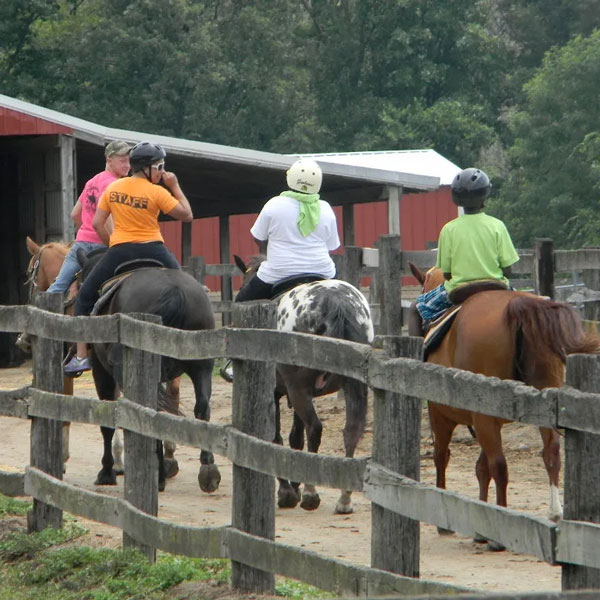 Trail Riding Rates
One Hour Trail Ride: $35.00 per person
Pass of 5 Rides: $150.00 (must purchase in advance)
Family of 4 or More: $32.00 per person (trail riders must be at least 8 years old and 50″ tall to trail ride, Reserved rides for groups of 8 or more riders: $30 per person)
Parent-Led Pony Rides: (rent a pony and lead your child, children under 8 years of age)

15 minutes: $15
30 minutes: $25
60 minutes: $30
What Should You Wear?
Please wear shoes, not flip flops, sandals, high heels, or any open-toed shoes. Long pants are recommended. In cooler weather, please remember your jacket, hats, and gloves.
Trail Riding Hours
Be sure and call us at 517-627-5500 to verify hours of operation before you come.
Weekday trail rides leave on the hour. Weekend trail rides leave every half hour. The last trail ride leaves the corral at 6:00 PM. Please arrive 30 minutes prior to the ride you plan to ride on.
Any reservation needs to be booked a minimum of 24 hours before arrival as well as a deposit placed to hold the reservation.
Closings will be posted on our Facebook page as well as on our answering machine for the day.
Lessons are still available throughout the last remaining months we are open. Please call our office for appointments. Lesson are not done on the weekends
May Hours
Friday: 12pm - 6pm
Weekends: 9am - 6pm
Monday - Thursday are by reservations for groups of 8 or more riders with a deposit.
June - September Hours
Weekdays: 12pm - 6pm
Weekends: 9am - 6pm
Starting Sept 12, 2022
Thursday 12pm - 6pm
Friday & Saturday 9am - 6pm
October Hours
Starting October 3, 2022
Friday & Saturday 9am - 6pm
Our last day is October 30, 2022
Girl Scouts, Boy Scouts, and Other Youth Organizations
These groups can ride for $25 per person if scheduled in advance for weekday riding.
Call Today to Reserve Your Trail Ride or Book Your Riding Lesson